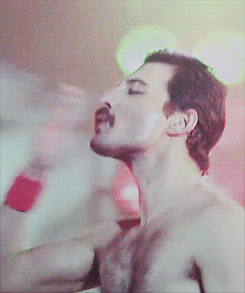 BOHEMIAN RHAPSODY, biopic et drame anglo-américain de 2018, réalisé par Brian Singer, durée 134 minutes. BOHEMIAN RHAPSODY est le titre d'une chanson écrite par Freddy Mercury en 1975 et enregistrée par le groupe Queen pour leur album, A Night at the Opera.
Ce film retrace le portait du chanteur de rock britannique et des membres du groupe Queen, de sa formation jusqu'au concert Live Aid for Africa en 1985. L'interprétation de l'acteur Rami Malek, déjà excellent dans la série Mr Robot, est touchante.
Acteurs:  Rami Malek, né le 12 mai 1981 à Los Angeles, britannique. Lucy Boynton, née le 17 janvier 1994 à New-York, américaine. Ben Hardy, né le 2 janvier 1991 à Bournemouth, britannique. Gwilym Lee, né le 24 novembre 1983 à Bristol, britannique. Joseph Mazzello, né le 21 septembre 1983 à New-York , américain. Aiden Gillen, né le 24 avril 1968 à Dublin, irlandais. Tom Hollander, né le 25 août 1967 à Bristol, britannique.
En 1970, Farrokh Bulsara (Rami Malek), un jeune britannique d'origine indienne et parsi est étudiant en Art. Il travaille aussi comme bagagiste à l'aéroport d'Heathrow. Tous les soirs, il va écouter un groupe local dans un nightclub. Il y fait la connaissanece du guitariste Brian MAY (Gwilym Lee) et du batteur Roger Taylor (Ben Hardy) et leur offre de devenir leur chanteur.
Ils recruteront le bassiste, John Deacon ( Joseph Mazzello) et s'appelleront Queen. Farroukh devient légalement Freddy Mercury et a une petite amie, Mary Austin (Lucy Boynton), avec laquelle , il restera six ans avant d'assumer ses penchants pour les hommes. En 1975, l'album de Queen, A Night at the Opera, comprenant BOHEMIAN RHAPSODY devient un sacré succés.
Freddy Mercury jouait de plusieurs instruments dont le piano et la guitare. Le groupe enregistrera quinze albums jusqu'au décès de Freddy, le 24 novembre 1991 d'une broncho-pneumonie, une des complications du sida.